Halloween and Christmas Entertainment
The Seasons are changing and so are our themes for providing circus entertainment acts!! We have many different circus acts to suit all Autumn/ Winter events and celebrations, so book us now for your special event. All acts will be performed following strict government guidelines. We have lots of Halloween and Bonfire Night themed circus entertainment to suit this time of year when the nights draw in. Choose from a Twisted Halloween Acrobatic act, Spooky Halloween Stilt Walkers or Fantastic Fire performers and Fire acts that ignite and enhance events over all Halloween and bonfire night celebrations! We have Witch Stilt Walkers, Zombie Stilt Walkers, Day of the Dead Stilt Walkers plus many more spooky Halloween circus acts. Our Christmas themed Stilt Walkers are our most popular acts over winter! Christmas is a time for celebration and winter festivities. It is a time of year people love and booking Christmas circus entertainment is sure to bring a little magic and enchant guests and audiences alike. Ranging from an eye-catching Christmas snow queen and king stilt walkers, mesmerising fire show or dazzling led/ glow performers. We also have our new Cheeky Stilt Walking Christmas Elves, Beautiful Stilt Walking Fairies and Stilt Walking Angel/ Cherub on offer this year! We are also open for bookings for Wedding Celebrations our themed circus entertainment acts. Our circus acts are specifically tailored to each unique wedding and we strive to make your special day a memory to be treasured and hope to be the cherry on top of your wedding cake. Choose from elegant meet and greet stilt walkers to table entertainment, aerialists to stunning finale fire shows, we have something for everyone to enjoy and all your wedding entertainment needs catered for. Your reception celebrations could start with some meet and greet entertainment, guaranteed to wow your guests as they arrive and tickle their taste buds, then perhaps some table entertainment or stage acts in between courses to keep them amused, followed by after dinner entertainment to get them in the party mood and perhaps the Flaming Heart Fire show as a finale to add that extra sparkle to your special wedding day. If you have a specific theme or idea for your event why not run it past us, happy to discuss options over the phone so feel free to get in touch with us ! Contact us here.
Good News. Outdoor Performances are allowed!
We are open for taking bookings again. We cannot wait to perform and get out there entertaining everyone again with our amazing circus acts. We will be following government guidelines so we can all be safe and enjoy the rest of the summer. We have a whole range of acts suitable for the outdoor events including:Private outdoor celebrations/ parties/ eventsOpen air public events, Town Centres, Acts include: Bubbleologists, Jugglers, Stilt Walkers, Children's Entertainment, Hula Hoop acts, Balloon ModellersWe have lots of fabulous colourful costumes and fantastic stilt walkers to elevate your event. We have been stilt walking for over 25 years. Stilt Walkers are great at social distancing being so tall and elegant they can parade and add that extra special splash of glamour and colour! If you want to hire eye catching and beautiful stilt walkers, we have a big collection of colourful, quirky and iconic characters to choose from. Our stilt walkers are highly interactive and our most popular themes are: wizard of oz stilt walkers, sci fi stilt walkers, the cake lady stilt walkers, steampunk stilt walkers, halloween stilt walkers, christmas stilt walkers, snow queen and king stilt walkers, elf stilt walkers, alice in wonderland stilt walkers, chinese stilt walkers, circus stilt walkers, carnival stilt walkers. What we have been up to:Over spring/ summer so far, we have been creating lots of new costumes and online circus acts and circus workshop videos. We also helped raise over £1500 for PPE for the children's hospice -Ty Hafan and showcased 4 acts for their virtual summer festival. Check out all our videos on our you tube channel below:
Social Enterprising Circus Skills
Many circus organisations across the globe provide a valuable social platform for communities to learn, grow and share experiences. Circus skills workshops are used to help disadvantaged youths, educate and improve communities and encourages creativity and individual development. Social enterprising circus provides long-term stability, which brings social and economic developments and inspires young people, as well as providing an educational and psychological support network for communities. The term social circus uses circus arts as a tool for social justice or social good. Circus skills are used to support marginalised, vulnerable people or those at social or personal risk. Circus skills workshops enable learners to develop many personal qualities and physical skills including coordination, concentration, confidence, self-esteem, spatial awareness, self-discipline, as well as important life skills including teamwork, perseverance, positive risk taking. Through this process of learning, at risk youths/ people's vision and capabilities can be transformed. Circus acts can often have messages and have symbolic meanings and enable people to express their emotions/ feelings about the society or world they live in. Tightrope walking could mean escaping from conflict or drama or finding equilibrium in an unstable world. Acrobatic tricks may reflect an impossible goal being achieved or group acro/ juggling work meaning building trust in others. Here at Circus Antics we personally work with many community organisations and vulnerable groups across the UK, we also have experience of providing circus workshops for people of all ages and abilities. Our team of circus instructors are highly skilled and creative, and love to provide fun, engaging circus skills workshops for everyone. If you have an event or community group and are interested in booking one of our circus workshop packages please do get in touch.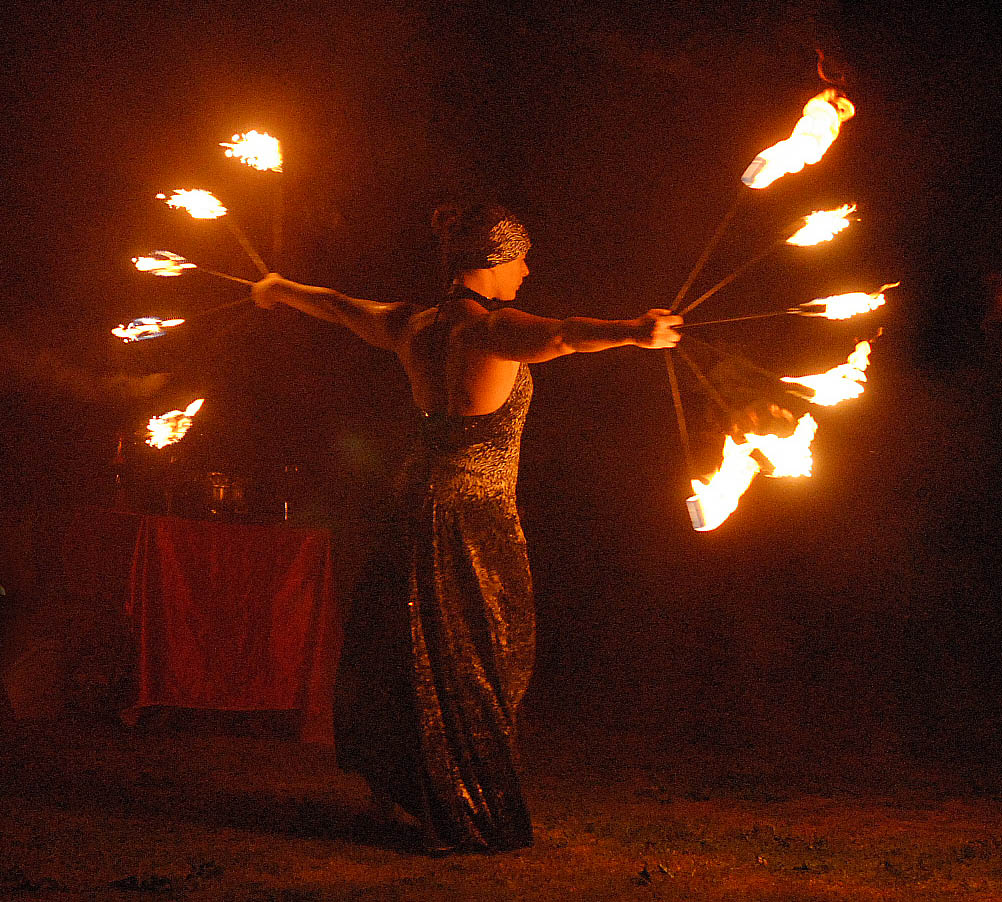 The History of Fire Performers
Ever wonder where fire shows all started? Different tribes from all over the world have practiced fire rituals or fire dances as far back as the 13th century CE, where the Aztecs tribe from Mexico dedicated their practices to the god of fire (called Xiuhtecuhti). The Balinese still perform their Angel Fire Dance and Fire Dance (called Sanghyang) in ancient rituals where thought to ward off witches at the time of an epidemic. As part of the spring festivals in the desert in India the tribes Siddha Jats also perform fire dances. The dances are accompanied by music and drums and dance styles vary from men dancing on hot fire coals, women balancing flaming pots on their heads. In New Zealand, the Maori started using a ball and string soaked in fuel, and perform rituals spinning them while alight. This was where the 'Poi' originated. Fire shows and fire rituals are still practiced today for tourists in many countries around the world and fire performance has been developed at there are many different new skills and tricks that are practiced purely for entertainment purposes. The manipulation of fire objects is now very popular in the modern world and there are many different objects tricks and skills which create mesmerising visual effects. The term fire performer is a well-known term for someone skilled in the art of fire acts. So, what are the all these modern fire toys/ skills?Poi or Fire Snake/ Rope - A pair short chains with handles and ball of wick on the end or long plaited length of wick on the chain. Staff – A metal pole roughly 1-2 metres long and balls of wick on each end. Can be used as a paid or even three to juggle with. Dragon Staff – A metal pole around 2 m long with each end having of 3-4 wicks positioned in a wheel. They are usually rolled on the body also known as contact spinning. Fire hoop – A hoop with fire approx. 10 wick spokes around the outside. Fire Fan – A metal fan shaped object usually with 5 or more fire spokes at the ends. Fire umbrella – an umbrella fire prop with wick on the ends. Fire Devil Stick – A small still roughly 50cms in length with wicks on both ends. Fire Club or Fire Baton – These are like juggling clubs but with wick on the ends, and also used for fire club spinning or fire juggling. Fire sword –Usually specially made for fire or can use an actual sword modified with long wick along the blade. Palm torches – Small fire torches held in the palm of the hand. Fire whip – Lengths of braided wick, the whip can be cracked to create large trails of fire. All performances using fire is dangerous and carries risks and it is always recommended that precautions be taken. All our fire performers have specialist Fire Insurance, Public Liability Insurance. Risk-assessments are also provided for every event. Please contact us for further technical requirements. Our fire performers are specialists and have performed fire for over 25 years and are happy to offer specific fire performances to suit all types of events. Our fire performers have a unique theatrical flare for creating mesmerising and high-impact fire shows. Choose from smaller shows using 1 or 2 performers or large group finale fire shows using pyrotechnics perfect for bonfire night celebrations and corporate events. Our fire performers can also be booked for more meet and greet or ambient background fire performances, which can be a perfect atmospheric backdrop to enhance any event. We offer bespoke wedding finale fire shows which are performed to love themed music, which includes a combination of fire acts and a flaming fire heart sculpture. The fire heart is used to create a picture to frame the happy couple to remember their special day. Get in touch with us if you would like a quote or further information. Here are a few links to our online fire videos: The Dangerettes All girl Fire Troop Fire Shows Reviews:"I just wanted to say a huge thank you for your fire show at our wedding on Friday. Thank you very much, it was fantastic""The performers were all amazing - fire juggling, fire eating, acrobats and stilt walkers and everyone at the party agreed that they made the night even more special. Thank you all for making Livvy's party a really memorable evening". ​